Exhibitions / Helle Schattenwelt (Bright Shadow World)
10.08.2012 to 08.09.2012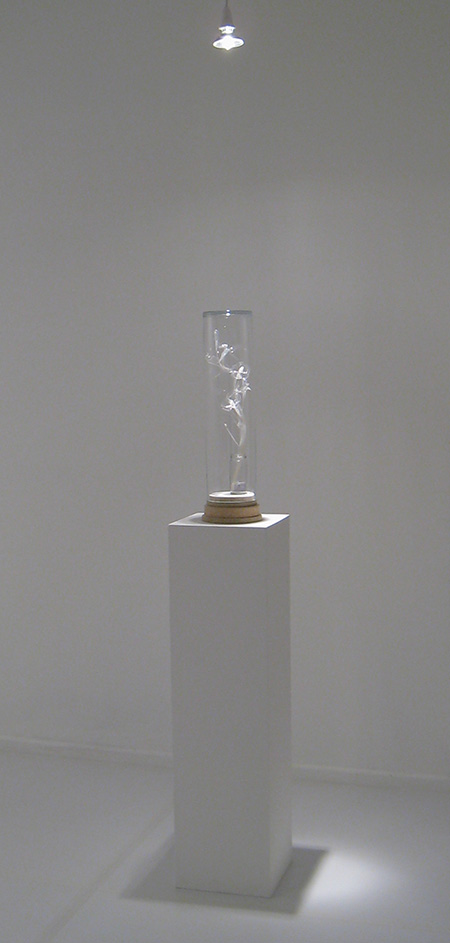 LOWRISE PROJECTS
Lvl 1/32 Wangaratta St, Richmond, Victoria
10th August - 8th September 2012
CATALOGUE ESSAY by MELANIE FLYNN
I'm sure I'm not alone in shuddering when I spy a mounting collection of plastic bags atop my fridge, another cellophane like tray that very temporarily held a few tomatoes and is now abandoned after lunch, or a polystyrene cup on my desk from a mornings take away decaf soy latte. But this detritus is the very real result of a world we have created and accept as ok on a daily basis. Some may grow their own fruit and veg, buy in bulk, have a worm farm, cycle to work. But I think it is fair to say: most don't.
These sights of rubbish also remind me quite personally of a time when less was wasted, and items that we consider temporary might have had a longer life. In Ernst's current exhibition, which features selected sculptures from a much larger recent showing at Gippsland Art Gallery, the ends of flower stems are blooming with bread bag ties. My grandmother who lived through much leaner times than we know today used to collect these and keep them in a kitchen drawer, along with the plastic wrapping that her newspaper was delivered in, old milk cartons, twisty ties, slightly used pieces of aluminium foil or grease proof. Endless numbers of bread bags were stored below the oven and jars previously holding instant coffee lined her bench tops, now filled with Arnott's scotch fingers, Cadbury chocolate squares, alongside sugar and tea. Oft labelled a hoarder myself, I can't help feel that in some way, Ernst's work implore us to consider the evolution of waste in our time, the parallel environment issues, and our role in that.
So to look at Ernst's latest sculptural works, and to be unaware, at least temporarily that they are constructed from this debris of modern western society is both liberating, but also the fact in point. To create things of beauty from discarded plastic bottles, straws, cups and the like, points not only to our cultural obsession with packaging, labelling and storing in a consumer environment, but also to our greater desire to classify and control our environment.[1] These sculptures are acting more as memento mori than floral arrangements, the sculptures are both alive and dead. Cable ties replicate the form of a daisy bush; Coke bottles bottoms, willowing tulips; and coke tops, delicate orchards. Using the rubbish (or 'recycling' as we often call it now) to construct fantastical specimens of plant life, created and instantaneously fossilized in resin and glass, reminds us that nature itself is to be observed, admired and treasured.[2]
Previous collecting habits appeared less 'organically' minded, as Ernst stored up polystyrene packaging. The weird concave and convex forms of white foam that seem so purposeful when they house new gadgetry such as wide screen TV's, became sculptures. In this exhibition they have been abandoned post unpacking, and are minimally illustrated. Their form is now our focus and as the curves and distinctive shapes come to the fore we can ponder what they held, and how amazing the specificity is of individual items in our modern world.
Ernst has been variously equated to a plant killer, a scientific taxonomist, and a failed or anxious gardener. I see him as none of these. He is instead an artist obsessed with the confluence of the so-called natural and man-made worlds and where this divide begins and ends. He is an 'urban' artist (I know, a cringe worthy phrase), but meaning that his materials are never going to be actual plant life as his expertise is not in that realm. As much as many of us may dream of reconnecting with an agrarian lifestyle, watching countless episodes of 'River Cottage' is not going to get us there.[3] The Bright Shadow World of these works is the beauty in debris of our concrete environ, the temporal made more permanent, and perhaps the spark to see a different future.
Melanie Flynn, August 2012
[1] This obsession is in my mind best used when coupled with a desire to understand and protect the environment, but according to the International Union for Conservation of Nature (ICUN) 'Species extinction is occurring at unprecedented levels, estimated at up to 1,000 times the 'background' or natural rate.' http://www.iucn.org/about/work/programmes/species/ current at 09.08.2012
[2] Tracey Clement, 'One Man's Trash is Another Man's Treasure', Garden of Love (catalogue), 2008
[3] Hugh Fearnley-Whittingstall is a food writer and presenter whose experiences as a small freeholder have been documented in television series' and his cook books. http://www.rivercottage.net/ current at 09.98.2012